Wednesday, April 9, 2008
Etiquetas: alchemy, custom, dress, etsy, fashion, gilbea, handmade, seamstress, silk, skirt, top
4 comentarios
Since last summer, I have wanted to have a dress, top or skirt made with my silk designs. However, I can't sew to save my life.

So this week I decided it was time to get a custom item made for my by a seamstress. I didn't really want to find one in my city, because I know how great sellers there are in Etsy and wanted to give them the chance to create something unique for me :)

I made an alchemy request in Etsy. If you don't know what Etsy is, I'll tell you it's an online site where you can find thousands of shops that sell handmade items. And alchemy? Well, it's the way to ask for something custom made, and sellers can bid on your idea.

The only problem is, I really have no clue what kind of dress / top /skirt I want! I just need different ideas from people! :) What I know is that I don't want something formal, because then I will never wear it! lol So probably the key to getting for example a dress I can wear in summer but also maybe as a babydoll with leggings / pants is to make something that is not 100% made of silk, but mixed with other fabrics.

Here are a couple dresses I found in the internet. I like their style and flow, but most of them look too formal to me. I don't want this to go to a wedding or prom.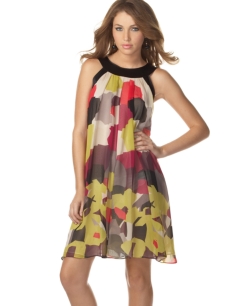 The thing im not sure about is empire waist. A lot of dresses have that nowadays, but I have this crazy idea that it makes me look like I'm pregnant! hahaha

And now, how do I look? That's important to choose a dress shape! :) I'm about 5.7 feet tall and not very thin lol Not much waist, wide hips and small bust. (yeah, maybe I should just do a top for myself, but I like the idea of a dress!)



Yeah that's me! haha

Ohh I already talked too much. Just wanted your opinion on what kind of dress to get. Or if I should get something different at all. Also if to do all silk or only a piece (I was thinking the bust part in silk and the rest in another fabric would look awesome). And if someone is a seamstress, awesome! Go bid on my alchemy request please! :) Oh, and... does anybody want to make me a nice sketch with his/her ideas??? lol

See my alchemy request at Etsy.

I will be posting a series on my alchemy experiences with this. Right now I got a couple bids and I'm doing the reviewing of their previous work part. Will write about this alchemy again once I find the right seller, and you'll go through the whole process with me if you want!

Please help me decide on a style!! Thanks! :)